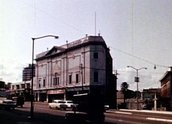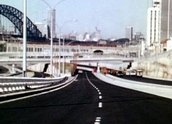 Warringah Expressway (1969)
Synopsis
A public relations film made for the New South Wales Department of Main Roads (DMR) by Kingcroft Productions which documents the planning, construction and completion of the first stage of the Warringah Expressway from the northern approach of the Sydney Harbour Bridge to Cammeray – a total length of 2.4 kilometres.
Footage includes the acquisition and demolition of private residences and commercial properties, existing concrete viaducts and a steel-arched tramway bridge to make way for the expressway; the excavation of rock; the installation of a drainage system of concrete pipes to dispose of stormwater collected on the roadways; the re-routing of traffic through detours; the building of five overbridges; the relocation of toll barriers at the northern end of the Sydney Harbour Bridge; the installation of lights and erection of signs; the construction of walkways and landscaping of the surrounding environment.
Curator's notes
Some of the most remarkable footage in the film is of the deconstruction of a steel-arched tramway bridge as traffic travels unaffected beneath. The Warringah Expressway was designed to improve traffic flow out of Sydney to the northern suburbs. After clearing areas in the expressway's path, the first section was built while traffic flowed through the construction area, requiring traffic to negotiate a series of detours around the site.
The film contains long montages of construction works, accompanied by only a wistful score. The light music makes the accompanying images of large-scale work seem more effortless than they would have been. The occasional narration is written with the general public in mind. The film aims to reassure road users that any inconvenience during construction would be outweighed by the finished road's easing of traffic congestion. The narration details progress of the project by highlighting construction milestones such as all five bridges being open to traffic by the end of 1967.
This documentary is one of several sponsored films made by Kingcroft Productions for the NSW Department of Main Roads from 1967 to the mid-1970s. See also The New Gladesville Bridge (1967), the Sydney-Newcastle Expressway (1968) and The Western Distributor (1973).