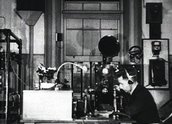 Victorian Police Radio Patrol (c.1931)
This film was made in or after 1934 as the Police car shown was purchased in 1934.
The car speeding away from the bag snatch is travelling in Dalgetty Street St.Kilda. The next scene is the Wireless Room situated at Russell Street Police HQ. Pedestrians can be seen walking past on the eastern footpath. The equipment used is a wireless transmitter using morse code and transmitted via the morse key. The next scene is loated in Mckenzie Street, just around the corner from Russell Street and in the background is part of Police HQ which still exists. The car is a Daimler Double Six sedan purchased in 1934 with a body manufatured locally. The car in chassis and engine form cost over 1,200 pounds. Th wireless operator is seated in the rear behind the driver and has a wireless transmitter and receiver in front of him on the floor and rear of the driver's seat. He receives the message by morse and wrote it down. The call sign is ZH. The next scene is filmed around Albert Park Lake. The film goes further and includes the interception of the thieves.
There is an older similar film made in 1928 and shows the entire fleet of Daimler 35hp six patrol cars and the wireless equipment.

#1 from IanMeates – 9 years, 2 months ago.
To comment on this title, you need to be
logged in
.

RSS – Subscribe to an RSS feed of comments on this title. (learn about RSS)