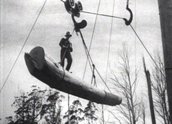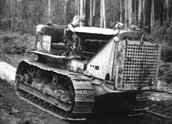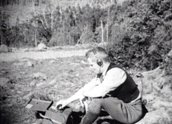 The date on this film should be 1937. The film was first proposed in May 1936. Shell paid Herschell's Pty Ltd motion pictures laboratories of 31 Agnes Street Jolimont to produce it, probably after a suggestion from the Forests Commission of Victoria. The locations were given in the shooting script I forwarded to the film and sound archive many years ago when working for the Historic Places section of DSE. The locations in the film are: Locomotive scenes - Powelltown; incline - Anderson & Row, Marysville; falling - Feiglin's on the Acheron Way; skyline - Ezards, Thomson Valley. The film was to be originally titled "Our Forest Heritage", but it was later changed. A draft was submitted in June 1936, and the first screening took place at The Atheneum on 8 August 1937. The source of this information is a Forests Commission of Victoria correspondence file held by the Public Record Office Victoria: VPRS 11563/P1 unit 141 file 36/1751.

#1 from sawdustoz – 11 years, 5 months ago.
To comment on this title, you need to be
logged in
.

RSS – Subscribe to an RSS feed of comments on this title. (learn about RSS)