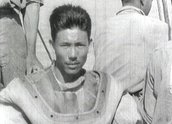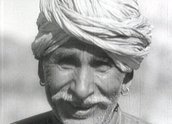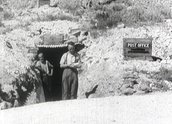 Through the Centre (1940)
Synopsis
Made by Herschells Films for the Shell Company of Australia, Through the Centre follows a Shell expedition to map a tourist route from Perth, through northern Western Australia to Darwin, then south through Central Australia to Adelaide.
Along the way, the documentary shows the country's diverse peoples and landscapes.
Curator's notes
Through the Centre travels through Perth, Broome, Darwin and Alice Springs as well as some of the townships sprinkled along the way including Geraldton, Marble Bar and Coober Pedy. At Victoria River Downs cattle station and Hermannsburg Mission the Indigenous communities living in these areas are seen, portrayed as the unfamiliar 'other', with a focus on their reliance on whites, their traditional hunting activities and dances, which they perform for the camera. Likewise, the Indian camel trader and the Japanese pearl diver become part of the film's projection of the exotic within the expansive space of the Australian outback.
Made 14 years prior to The Back of Beyond, Through the Centre explores the Australian outback as an iconic space through which concepts of modernity, progress, nationhood and otherness are expressed. It recounts the 12-week, 9,000-mile (14,000-kilometre) mapping expedition through the northern and central parts of Australia.
Through the Centre intersects with many of Shell's interests in the Australian landscape as a source of rich mineral deposits and as a vast land to be mapped, explored and conquered; putting a 'girdle of civilisation' round the 'Centre', as the end credits say. As well as The Back of Beyond (1954), the Shell documentaries The Changing Face of Australia (1970) and Let's Go also touch on these threads.
Prior to the formation of the Shell Film Unit in 1948, the Shell Company of Australia worked with Melbourne-based Herschells Films on Through the Centre, They Serve (1940) and Timber (1947). Shell had sponsored films since the 1920s and produced its own documentaries from the 1940s onwards. A significant amount of the Shell Company of Australia's film library holdings have been deposited with the National Film and Sound Archive for preservation including film and video material, hundreds of associated publicity booklets, scripts, production stills, posters and film notes.