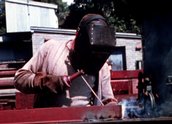 Think Twice (1958)
Synopsis
This short film about occupational safety amongst metal workers highlights the dangers of improper use of safety equipment and inadequate protective clothing. It highlights three main sources of injury – heat, rays and fumes – and illustrates safe and unsafe ways to operate in the workplace.
Curator's notes
Commissioned by the Boilermakers' Society of Australia as part of a safety campaign, Think Twice is one of two safety-themed films that the WWF Film Unit made for other unions (The Bones of Building, made for the Building Workers' Industrial Union in 1956, being the other). An introductory title stresses safety is 'just as important as the struggle of economic demands'.
Think Twice is perhaps the most straightforward of the WWF Film Unit's output. It demonstrates the right and wrong approaches to particular tasks and the consequences (eye injury, serious burns) of unsafe work practices. Shot on Cockatoo Island with workers and union members playing the parts, Norma Disher's involvement as filmmaker stirred interest because Cockatoo Island was then an area prohibited to women.
Think Twice was used widely throughout the boilermakers' industry and bought by the Division of Occupational Safety and the Department of Labour and Industry in several states. It screened at the 1958 Sydney Film Festival and the 1959 Melbourne Film Festival and received top prize (a Silver Award) in the Teaching category at the second AFI Awards in 1959.
Fighting Films: A History of the WWF Film Unit (2003, Pluto Press) was written by academic Lisa Milner based on her PhD research into the WWF Film Unit. The book was jointly funded by the Maritime Union of Australia, the Construction Forestry Mining Energy Union (Mining and Construction Divisions) and the Australian Manufacturing Workers' Union. To coincide with the publication, the MUA released a three-DVD compilation featuring 13 of the WWF Unit's films as well as John Hughes's documentary Film-work (1981).