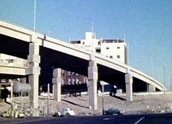 The Western Distributor (1973)
Synopsis
A public relations film made for the New South Wales Department of Main Roads by Kingcroft Productions which documents the construction of the first stage of the Western Distributor, providing a route from the Sydney Harbour Bridge through to Ultimo and the city's west.
Footage includes aerial shots of Sydney Harbour and the inner city; the widening of Sydney Harbour Bridge toll plaza on both sides and the construction of retaining walls; installation of a temporary footbridge; the demolition of properties on the distributor path and relocation of heritage trees; the construction a two-level viaduct and decks; the paving and landscaping of pedestrian underpasses; the laying of concrete for the road surface and application of asphalted paving; the erection of colour-coded signs to direct traffic; and the opening of the distributor to both southbound and northbound traffic in 1972–73.
Curator's notes
Work on the first section of the Western Distributor commenced in 1969. By the end of 1972 it was open to southbound traffic, with the northbound carriageway opening shortly after. It was part of a system of expressways, freeways and traffic distributors designed to ease congestion on Sydney roads flowing from an increase in commercial and industrial activity in the city from the 1960s onwards.
Between 1967 and the mid-1970s, the NSW Department of Main Roads engaged production company Kingcroft Productions for a number of films about its work. See also The New Gladesville Bridge (1967), the Sydney-Newcastle Expressway (1968) and Warringah Expressway (1973).