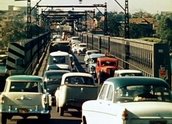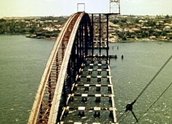 The New Gladesville Bridge (1967)
Synopsis
A public relations film made for the New South Wales Department of Main Roads (DMR) by Kingcroft Productions documenting the construction of the 1000 foot (305 metre) New Gladesville Bridge, a pre-stressed concrete bridge that connects Gladesville with Drummoyne across the Parramatta River in suburban Sydney.
The film explains the importance of the bridge to Sydney's north-west expansion. It details each stage of construction including the erection of a steel facade work to support the concrete arch; the casting and placement of 508 concrete units to make the four arched ribs of the bridge; the construction of the deck to form a six-lane roadway; the laying of bitumen and asphalt; and the bridge approaches from either side. The film ends with footage of the opening ceremony by Princes Marina, Duchess of Kent, on 2 October 1964.
Curator's notes
At the time of completion the New Gladesville Bridge was the longest reinforced concrete arch span in the world. The aerial and crane shots filmed during the bridge's five year construction illustrate the scale of this impressive feat of engineering and design.
The New Gladesville Bridge is one of several documentary films made for the NSW DMR between 1932 and 1989 that document achievements in bridge and road design, construction and maintenance. The New Gladesville Bridge was designed to relieve traffic congestion on the old Gladesville Bridge and was the first stage in the DMR's abandoned North-West Freeway, which planned to link the northern suburbs of Sydney through to Newcastle.
John Kingsford Smith (nephew of Sir Charles), through his production company Kingcroft Productions, worked on several DMR films including Sydney-Newcastle Expressway (1968) and The Western Distributor (1973). David Low, a Kingcroft regular, provides the voice-over narration for the film and explains the technical detail of the construction in an accessible way for a general audience.
In 1989 the Department of Main Roads amalgamated with the Traffic Authority of NSW and the Department of Motor Transport to form the Roads and Traffic Authority.