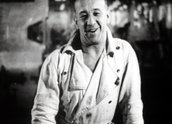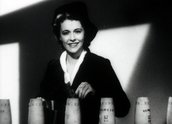 South-west Pacific (1943)
Synopsis
This promotional documentary supports Australia's war effort, both at home and abroad. It was made by Cinesound Productions for audiences in Australia as well as the Allied countries of Great Britain, the United States and the former Soviet Union.
Curator's notes
Cinesound Productions, under the direction of Ken G Hall, was firmly behind the war effort. The outbreak of the Second World War closed Cinesound's feature film production so the company could concentrate on making its newsreel, Cinesound Review, and war-related documentaries. Many of these, such as South-west Pacific, were for the Commonwealth Department of Information or else used film footage supplied by them (including the Academy Award-winning newsreel Kokoda Front Line!, 1942).
Propaganda films and newsreels made for the Commonwealth during the Second World War showed domestic audiences that Australian troops were fighting hard and that each and every individual could make a difference. Beyond script approval, producers like Hall were allowed to assert creative control over films made for the government. As a result, the Cinesound output during the war years retains its familiar Hall-Cinesound style. Hall himself had a pretty good handle of what was going on in the Pacific through meetings with government officials. He wanted to raise the sense of public urgency in Australia about the war, as well as boost morale.
Hall structures South-west Pacific around a series of individual vignettes, where each of the characters tells of their contributions to the war effort. We meet everyday people – an engineer, a farmer (Bert Bailey), a factory owner, a female munitions worker (Muriel Steinbeck), and fighters on the front-line. Hall employed a similar device in the promotional film Give Us This Day (also for the Department of Information), made in support of the food rationing introduced by the Curtin administration in 1942. Both films draw upon a sense of camaraderie with the Allied forces and a feeling of national pride. For international audiences in the Allied states, South-west Pacific reassured them that, despite having a population of only seven million, Australia was certainly doing its fair share to ensure victory.
South-west Pacific was one of only a few propaganda films made for overseas as well as domestic release. The international audience is probably why the opening and closing segments project an image of Australia as the last bastion of democracy in the region, making the country crucial to an Allied victory. It also gave Hall a chance to introduce nationalistic rhetoric with 'Waltzing Matilda' and 'Advance Australia Fair' playing over the opening and closing credits. Somewhat disjunctively, the film ends with a reference to the birth of Australian democracy and the Eureka Stockade, perhaps to show our overseas allies that, as the closing narration states, '[we] stand truly by each other and fight to defend our rights and liberties'.