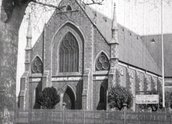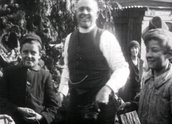 South Melbourne Methodist Mission News (c.1924)
Synopsis
This film made by the South Melbourne Methodist Mission promotes their work with children and the poor in 1920s South Melbourne. It also shows the mission's weekly issuing of firewood to struggling families in the local community.
Curator's notes
The intertitle that begins this film reads, 'Every city has its poor, but there is always a haven of refuge for those upon whom fortune has not smiled'. In the brief minutes that follow, the work of the mission (located in Cecil Street, South Melbourne) is clearly detailed. The film presents children's wellbeing as core to the mission's work through the provision of shelter, education, nutrition and opportunities for play. Intertitles reinforce the mission's positive impact (both material and spiritual) on the local community (see clip two).
The film was made for screening to members of the mission's Methodist support base throughout the state of Victoria to both promote the important work undertaken in South Melbourne and to raise funds to allow that work to continue. From the early 20th century, Christian welfare organisations have used films to highlight their work within the Australian community. Other examples include the Australian Inland Mission's An AIM Patrol (1927) and A Brief Survey of the Activities of the Brisbane City Mission (c1939).