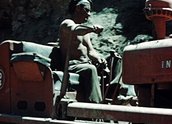 Snowy Hydro - Where Giants Meet (1948)
Synopsis
Produced in 1948 by Cambridge Film Productions for Industrial Sales and Service (ISAS) and the SMHEA, the film is both a domestic recruitment promotion for the Snowy Mountains Scheme and an ode to the International TD-24 bulldozer.
Curator's notes
This 1948 dramatised documentary, predating the official commencement of the Snowy Mountains Scheme by a year, was produced for ISAS, the distributors of the International TD-24 bulldozer.
The TD-24 was used throughout the scheme and the Snowy contract must have represented enormous revenue for the importer. But this army of machines demanded a troop of trained operators. Men needed to be recruited and trained quickly for the huge project that was about to get underway.
The film spends a lot of time singing the praises of the bulldozer, but it's interesting as a recruitment tool. Its target is not simply every young man who wants to drive a big tractor. The recruit depicted is a genuine 'man from Snowy River' who's going to 'quit the saddle for a bit and lend a hand'. Clearly the film was addressing potential scepticism about the Snowy Mountains Scheme, and countering criticism – much of which at the time focused on the loss of livelihoods of the high country bushmen.
By the end of the film, our man from Snowy River has traded in his moleskins for a pair of overalls, and is sitting comfortably atop a TD-24.