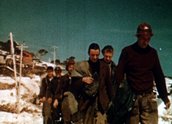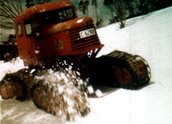 Snowy Hydro – The Snowy Flows Inland (1954)
Synopsis
Produced in 1954 by the Australian National Film Board, the film presents the aims and objectives of the Snowy Mountains Scheme and looks at the preliminary phase operations.
Curator's notes
The Australian National Film Board, the first incarnation of Film Australia, was established in 1945, with Stanley Hawes being appointed Producer in Chief the following year. This film, produced in 1954, is one of the earliest films on the Snowy Mountains Scheme. Policy would have dictated that the Film Board go on to record the SMHEA's activities and achievements over the ensuing 20 years. However, with a capital cost of $820 million, the operations of the scheme were considered important enough for the federal government to fund a special SMHEA film unit.
Harry Malcolm, the cinematographer on this film, had begun his career in the early 1930s and had worked with the likes of Ken Hall and Charles Chauvel. When by the early 1950s the Australian film industry had virtually collapsed, Harry, like others, found his only work on newsreels and documentaries, such as this one. This job proved to be propitious nonetheless, as Harry went on to shoot and produce the bulk of films undertaken by the SMHEA film unit. Most of the unit's productions followed the basic format and style of this film – a conventional instructional documentary complete with authoritative BBC-intoned voice-over, typical of the period. But Harry was highly trained and the technical standard of his cinematography and camera work, predominantly using a Cine-Kodak camera, was equal to any non-drama being produced in the country at the time.