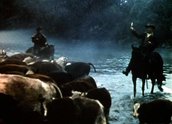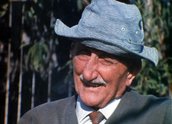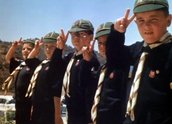 Snowy Hydro – The Jindabyne Story (c.1965)
Sad to see the bridge destroyed even after all these years.
One day I attempted to cross the bridge by myself. Being only four years old I was too small to notice a vehicle approaching that had a pipe (or more) hanging sideways from its load, having come loose. The pipe struck me between the eyes and I was knocked unconscious and fell to the center of the bridge road. A nurse, as I have been told, saw the event and carried me to the doctor's surgery where I was given four stitches. I remember clearly gaining consciousness while being stitched and my father standing at my side in his Policeman's uniform.
I still carry the scar to this day now aged 61. I am probably lucky to be alive but it is great nevertheless, to see the old bridge again in these historical records from a time long gone.

My father was Fred Starr, a Commonwealth Police Officer. I am his son, Paul Frederick Starr. My clearest memory is of the noisy rapids as the Snowy River ran through town.

#1 from Starfish – 13 years, 7 months ago.

Thank you for sharing your story. I have visited Jindabyne most years since I was 4 years of age, now 31. I don't think there has been a visit over those years that I haven't looked out over lake Jindabyne and pondered of what had been in Old Jindabyne.

I hope you continue to share your memories to make Old Jindabyne forever remembered.


#2 from RodSewell – 13 years, 3 months ago.

Great to hear your story. My family lived in Old Jindabyne and I clearly remember walking up to the Weston's farm each morning to get our fresh milk in a small can. We had to walk through paddocks with cows and bulls in it and this was a bit daunting for a 4 year old.

Our family moved to Island Bend as Dad (Jim Harris) was involved in the SMA. I remember our good friends we left there - the Wheelers.

#3 from Tim – 12 years, 1 month ago.
To comment on this title, you need to be
logged in
.

RSS – Subscribe to an RSS feed of comments on this title. (learn about RSS)