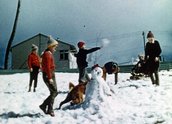 Snowy Hydro – Conquest of the Rivers (1957)
Synopsis
Produced in 1957 by the SMHEA photographic unit (Harry Malcolm et al.), the film promotes the Snowy Mountains Scheme as a source of employment for local Australian recruits.
Curator's notes
With the Snowy Mountains Scheme strongly associated with the large number of migrants who came to work on the project, it's easy to overlook the significant domestic recruitment program undertaken at the same time. A little over 30 per cent of the workforce was Australian-born. This 1957 film is essentially a recruitment film, targeting local contract and itinerant workers – the types of workers whose adaptability and skills base would well serve the scheme's requirements.
It has a loose docu-dramatic structure, using voice-over rather than sync sound. Synchronised location sound recording was still quite cumbersome at that time. In the film, Pat Tingwell (younger brother of Bud) plays TE Carpenter, a boring contractor from Boorandarra, with a wife and young son.
The film's message is simple: west of the divide the drought is so bad there's little work for boring contractors. The Snowy Scheme is the place to go, with work opportunities in abundance and the chance to be part of a magnificent project. And once the Scheme is up and running, its irrigation benefits will render drought irrelevant and sinking bores unnecessary.