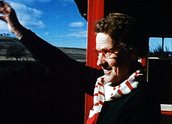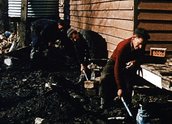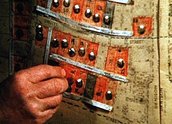 Snowy Hydro – Operation Adaminaby (1958)
Synopsis
Produced in 1958 by the Snowy Mountains Hydro Electricity Authority (SMHEA) photographic unit (Harry Malcolm et al.), the film tells the story of moving the old town of Adaminaby to allow for the damming of the Eucumbene River.
Curator's notes
Three towns in the Snowy Mountains were moved to new locations as a result of the Snowy Mountains Scheme: Adaminaby, Jindabyne and Talbingo. Adaminaby was relocated 9.5km away before the surrounding valleys were flooded by the construction of Eucumbene Dam. The original township dated from the 1830s and by 1958 when the move took place, it was a country town of reasonable size. Over 100 buildings from the old town were dismantled and re-erected in the new location. While the new Jindabyne has flourished, the new Adaminaby, more geographically and economically isolated, has not fared so well.
It's interesting to compare this film with A Town to be Drowned – another film about Adaminaby made by the ABC around the same time. While the ABC film tells the story very much from the residents' point of view, Operation Adaminaby is more about the practicalities of moving a town and its people. It is shot over the entire period of the move and ends with the waters of Lake Eucumbene rising over the remnants of the old town.
While there are wonderfully vivid sequences with older 'pioneer stock' townspeople, the sentiment of the film lies not with them but with generations to come. The Snowy Scheme's promise of a newer and better town overshadows any hints of resentment felt by the residents. All sense of loss is masked by praise for their sacrifice, made in the name of progress and for the good of the country. In an extraordinarily florid finale, reminiscent of wartime propaganda, the film pays tribute to the residents and their noble act.
In 2001, Jeannine Baker made a documentary for SBS TV called Our Drowned Town. Baker's moving film interviews Adaminaby families who to this day lament what was lost.