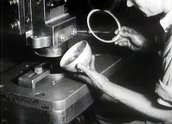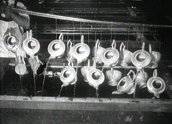 A Shining Example (c.1920)
Synopsis
Produced by Herschells films for the Made in Australia Council, this is a promotional documentary that highlights Australia's capacity to produce the 'highest grade' electroplate silverware.
The film is silent and uses intertitles to illustrate the action.
Curator's notes
Unlike other films produced by the Made in Australia Council, A Shining Example frames its standard tour inside an Australian factory with a narrative that places fictional characters within the film.
The opening scenes (not selected here) take place in a jeweller's shop, where Mr Lloyd Jones and his sister Miss Iris Brown are in search of a suitable present. Browsing at the counter of Bernard L Wilks' store, Lloyd Jones enquires as to whether the teapot he is admiring is made in Australia. Astonished, the jeweller responds that they 'can't make anything like that here' to which Lloyd Jones clearly takes offence. He then calls up the Made in Australia Council on the telephone conveniently located on the counter to arrange a tour of a silverware factory.
This is the set-up for the tour, where the viewer witnesses the inner workings of the factory and follows the manufacture of a teapot from beginning to end. The jeweller, who takes this tour with his two customers, is thus cleverly positioned as a substitute for the audience, the sceptic who doesn't believe that Australians can produce high quality silverware. By the end of the film the jeweller (and by extension the audience) is converted and decides to stock Australian-made teapots in his store, rather than imports. The film ends with the Made in Australia Council slogan, 'wherever you trade, buy Australian Made'.
The Melbourne-based Made in Australia Council was formed in the early 1920s as part of a campaign to raise public awareness about the importance of local production and to promote Australian-made goods. Emerging out of a growing movement in support of local manufacture and production, the Made in Australia Council drew support from the Victorian Chamber of Manufactures, Australian Industries Protection League, Australian Natives' Association (now Australian Unity), the Education Department and Railway Commissioners (Australian Natives' Association, Annual Conference Report, 1924). It promoted support for Australian-made goods through the distribution of posters, leaflets, pamphlets and the production of 'moving pictures'. The Council's slogan was 'wherever you trade, buy Australian Made'.
Other promotional films held at the National Film and Sound Archive and presented by the Made in Australia Council include Boots and Shoes, Piano Making, A Day at an Engineering Works and Factory to Farm: Making Agricultural Implements in Australia. Many of the Made in Australia Council's films do not contain details of the production company employed to make the film. However, production records for A Shining Example indicate it was produced by the Melbourne-based production company, Herschells Films who had been making newsreels and documentaries since 1913.