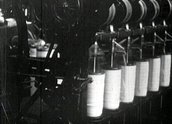 Sheep to Shop: Hosiery and Knitted Goods (1924)
Synopsis
Produced by Herschells Films for the Made in Australia Council, this documentary promotes Australia's wool industry and the production of high-grade woollen garments.
Curator's notes
Part of a series supporting Australian-made products, this promotional documentary begins with shots of sheep in the field and then goes on to follow the woollen fleece on its journey through the production process to 'wearing apparel'. It uses a combination of static shots and intertitles to explain the processes: sorting and grading the wool; making the yarn; the dyeing rooms; knitting the garments; and the finishing department. The intertitles towards the end of the film refer to the 'extraordinary machinery' involved in the process. At one point, a machine miraculously 'absorbs yarn at one end and discharges socks at the other'! The film ends with the Made in Australia Council's slogan: 'wherever you trade, buy Australian made'.
The Made in Australia Council was formed in the early 1920s as part of a campaign to raise public awareness about the importance of local production and to promote Australian-made goods. Emerging out of a growing movement in support of local manufacture and production, the Made in Australia Council drew support from the Victorian Chamber of Manufactures, Australian Industries Protection League, Australian Natives' Association (now Australian Unity), the Education Department and Railway Commissioners (Australian Natives' Association, Annual Conference Report, 1924). It promoted support for Australian-made goods through the distribution of posters, printed matter for public attention, leaflets, pamphlets and the production of 'moving pictures'.
Sheep to Shop: Hosiery and Knitted Goods was produced by the Melbourne-based production company Herschells Films that had been making newsreels and documentaries since 1913. Hershells Films also made A Shining Example and From Sheep to Shop: Woollen Goods as part of the same campaign.
This film is part of the Harry Davidson Collection held at the National Film and Sound Archive. Harry Davidson was a private collector who built an extensive collection of early Australian films including documentaries and newsreels. He collected a number of Made in Australia Council documentaries from the 1920s. Together these films provide an insight to both the Made in Australia movement and local industries that were producing Australian-made goods during this time.