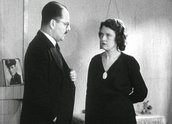 Poisoned Daggers (c.1941)
Synopsis
This short documentary by the New South Wales Department of Heath launches a state-wide drive to reduce infectious diseases such as dengue fever through preventative measures and increased community awareness. The film is introduced by the NSW Premier, William McKell, and the Minister for Health, Mr Kelly. A dramatised scenario highlights the dangers of dengue fever and includes micro-photography of mosquitoes. Sections of the soundtrack are mute.
Curator's notes
The evocative title Poisoned Daggers lends a sense of drama to the message being conveyed. The 'poisoned dagger' (the mosquito's bite) is a threat not just to the health of the community, but also to the capacity of the nation to contribute to the war effort. Reduced outbreaks of infectious disease are therefore in the national interest. This is made clear by the Premier and his Health Minister in the prologue and dialogue in the film. A feared epidemic of dengue fever in New South Wales (hinted at in the introduction) may have prompted this public health drive, made more urgent by the war.
The film was shot by Arthur Higgins, one of the pioneering Higgins brothers working in the early Australian film industry. Arthur is the best known of the three brothers and worked with Raymond Longford on The Woman Suffers (1918) and The Sentimental Bloke (1919). He also worked for Frank Thring's Efftee Film Productions in the 1930s.
The segment in clip one is taken from a print that was deposited with the National Film and Sound Archive in the mid-1980s through its Last Film Search initiative. Sections of the soundtrack are mute and some of the shots appear in the wrong order. Perhaps someone later spliced together the film as best they could or it was deliberately rearranged after its public release to wartime cinema audiences. This is an example of the intriguing (and as yet unexplained) story of a film's history.