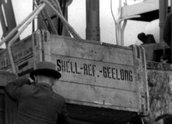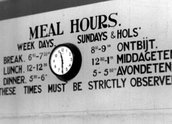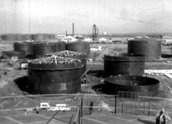 On Stream (1954)
Synopsis
This industrial documentary made between 1951 and 1954 by the Shell Film Unit Australia retraces the development, construction and opening of the Shell Oil Refinery on the outskirts of Geelong, Victoria.
Curator's notes
Bookended with the patriotic sounds of 'Waltzing Matilda', On Stream frames the mining industry as a marker of progress and the opening of the Shell Refinery on 18 March 1954 as the 'culmination of a dream'. The scale and importance of the Shell project is emphasised consistently throughout the documentary by using quantifiers which illustrate the project's great achievements. These achievements include the 20 million pound refinery; a 250-acre site; a 36-mile oil pipeline; a 215-foot crane; and a 1,000 strong multicultural workforce. In addition to these achievements, the documentary emphasises the need for Australia to be independent from imported petroleum products. On Stream romanticises the achievements in building an oil refinery and emphasises the benefits for the city of Geelong, its residents and the broader Australian nation.
On Stream was made by the Shell Company's dedicated film production unit – The Shell Film Unit – that formed in 1948. Shell had been producing and sponsoring films since the 1920s, but with the Shell Film Unit, it benefited from its own production, distribution and exhibition network nationwide. Shell's film and video products include industrial and promotional documentaries, education and training films and advertisements. As well as its direct interest in industry, Shell has also made numerous motoring, sporting and environmental documentaries.