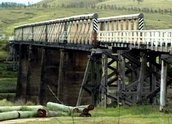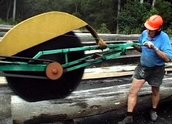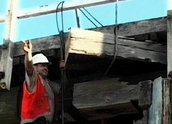 Maintaining the Links: Maintenance of Historic Timber Bridges in NSW (2001)
Synopsis
This documentary by the NSW Roads and Traffic Authority documents the history of timber bridge design and construction in New South Wales. It features maintenance work on four historic bridges built by the old Public Works Department and the Department of Main Roads (precursors to the RTA): the 1882 Monkerai bridge, the 1893 McKanes bridge, the 1904 Luskintyre bridge (see clip three) and the 1930 Dangar Bridges. It includes interviews with workers and details the knowledge, skills and processes needed to restore and maintain timber truss bridges.
Other segments present the history of timber truss bridge construction in New South Wales (see clip one), the role of NSW State Forests in providing the hardwood timber required for maintenance work (see clip two) and the importance of bridges to the general community.
Curator's notes
Over 400 timber truss road bridges were built in New South Wales with many of the surviving bridges listed on the RTA Heritage and Conservation Register. The four bridge projects in this documentary each highlight different aspects of heritage bridge maintenance (such as rehabilitation, emergency repair, timber beam replacement and re-piling) and offer a glimpse into the complex and sometimes hazardous working conditions of the RTA timber bridge maintenance crews.
What makes this documentary particularly engaging is the insights of crew members who share their experiences of working on the bridges. Maintaining the Links was made as part of the RTA's Oral History Program, which captures personal stories and offers an alternative to official written records. What emerges from the interviews is that these restoration jobs are clearly not the same as working on modern steel or concrete construction projects. The delicate nature of the work is in sharp contrast to other RTA and Department of Main Roads projects captured on film (see Warringah Expressway, 1969, and The Western Distributor, 1973).