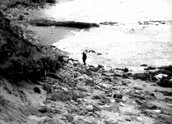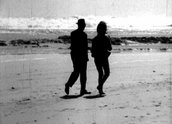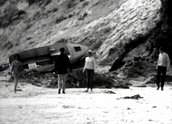 Holt – Film Re-enactment of the Circumstances Surrounding the Disappearance of the PM (1967)
Synopsis
This is unedited silent black-and-white footage, shot by the Victorian Police, re-enacting the movements of those who witnessed the disappearance of Prime Minister Harold Edward Holt on 17 December 1967.
Curator's notes
Prime Minister Harold Holt disappeared while swimming at Cheviot Beach near Portsea, Victoria, on Sunday 17 December 1967. His body was never recovered. Investigation into the disappearance began on Monday 18 December, headed by Inspector Jackson of the Commonwealth Police Force and Inspector Ford of the Victoria Police Force. In January 1968 the Commonwealth and Victorian Police submitted a 95-page joint report on the disappearance. No cause of death was determined, but the report stated that there was 'no indication that the disappearance of the late Mr Holt was anything other than accidental'.
This film is part of the extensive collection of evidence and information contained in the police report. It was shot by the Victorian Police on Tuesday 19 December – the same day on which witnesses' statements were taken – and held at the Victoria Police Forensic Science Laboratory in Melbourne. The report refers to the film in this way: 'In an effort to place on permanent record by photography the local scene at the beach, members of the initial beach party and eye witnesses to the disappearance of Mr Holt were gathered on the area and a continuous movie film was taken in the form of an enactment of the circumstances.' By all indications the film was shot on black-and-white reversal stock and viewed many times – hence the quality.