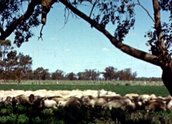 Green Heritage (c.1948)
Synopsis
This agricultural documentary sponsored by the Rural Bank of New South Wales presents itself as a story of 'grassland improvement'. It surveys the various methods for the improvement of pasture lands, irrigation techniques and different types of grasses which increase the usability of the land in agriculture, farming and grazing. By the end of the film, the improvement of grassland and pasture has been successfully linked to the 'foundation of Australia's prosperity'.
Curator's notes
Green Heritage is a documentary targeted at the agricultural and farming sectors. It is aimed at viewers who care about subterranean clover, methods of pasture irrigation or the preferred grass that livestock will thrive on.
The narrator directly addresses the audience in an expository style, and the accompanying images support the narrator's explanations. From this straightforward beginning, the final moments in the film draw the underlying arguments to the surface: that grassland improvement is the foundation of Australia's prosperity. According to this argument, building stronger primary industries depends directly on the ability to produce better pastures. The Rural Bank of New South Wales and the Department of Agriculture are positioned as having the knowledge and expertise in this area, as well as the ability to provide direct support to farmers and agriculturalists.
Parts of this documentary were filmed at an agricultural college and at the Berry Training Farm in New South Wales.