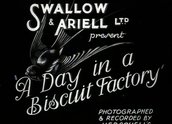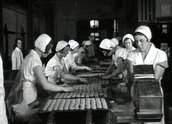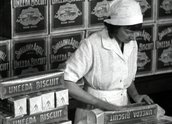 A Day in a Biscuit Factory (1932)
Synopsis
This sponsored film takes the viewer inside Swallow & Ariell's Port Melbourne biscuit factory. It shows the quality testing of ingredients, biscuit, wafer and cake making and tin manufacture and packaging.
Curator's notes
The Port Melbourne factory featured in this film was chosen by Thomas Swallow in 1854 as the site for the manufacture of Swallow and Ariell biscuits. By the 1880s, the business was producing over 100 different lines of biscuits for interstate and international export and later expanded into cakes. By the 1960s however, many of Australia's major biscuit companies were amalgamated. In 1965 Swallow and Ariell was acquired by the Arnott-Brockhoff-Guest biscuit group and has operated under the Arnott's name ever since.
While not the film's intention, it nevertheless remains an interesting examination of the division of labour, factory-line production processes, and the related domestic sphere to which many of the products appeal. The separation of women and men within the factory is dictated by the type of labour they are undertaking. The operation of heavy machinery and the production of the biscuit tins, for example, are done by men, while women do the sorting, packing and icing of the biscuits.