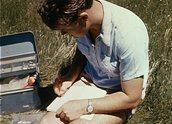 CSIRO – Rabbits in Confined Populations Management Techniques (c.1955)
Synopsis
A 16mm training film, produced c1955 by the CSIRO Film Unit for the Wildlife Survey Section, detailing procedures in field experimentation in rabbit population control.
Curator's notes
The rate of spread of the European rabbit (oryctolagus cuniculus) in Australia was the fastest of any colonising mammal anywhere in the world. Initial efforts to manage rabbit populations were generally unsuccessful. A run of good seasons in the 1940s, combined with the effects of the Second World War – which took young people off the land and diverted wire and steel, needed for posts and netting, away from the farmers – compounded the problem. By 1950 rabbit numbers were out of control. In areas like the Eastern Riverina, rabbits literally carpeted the landscape.
A fighting fund was set up and after some initial mixed results from field trials, the introduction of myxomatosis eventually proved to be an extremely effective means of population control. Following its preliminary spread throughout south-eastern Australia, the benefits to the sheep, wheat, beef, dairy and horticultural industries were clearly manifest. In 1953 the wool clip reached record levels, and the resulting regeneration of native flora and fauna has never been assessed.
Despite the successful reduction in rabbit numbers, little was known about the biology of wild rabbits in Australia. So the Wildlife Survey Section of the CSIRO, including Dr Roman Mykytowycz, Dr Ken Myers and Dr WE Poole, began studies of captive rabbit populations held at differing densities within enclosures, in order to assist and improve control techniques. This film, produced in 1955 at a study site near Albury, documents procedures carried out. It was produced for scientists and internal use rather than for the public (Ken Myers took the film to a conference in the US in the 1960s) so it's quite slow and tedious. However it's a good record of the meticulousness of the day-to-day work involved in animal field studies.