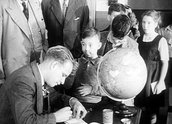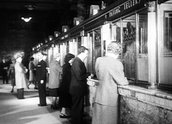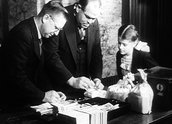 Commonwealth Bank – The School Bank (1951)
Synopsis
Produced for the Commonwealth Savings Bank by the Australian National Film Board, the film, aimed at primary school children, explains the place of the School Banking program in relation to the broader national banking system.
In the film, four children make their way to school. Before the morning lessons start, school banking is carried out. The children line up to make deposits in their school bank accounts. Mr Phillips, from the Commonwealth Savings Bank, pays a visit to talk to the children about why they should save and what happens to their money when they put it in the bank. To illustrate his talk, he 'teleports' four students to the Sydney Central branch of the Commonwealth Bank in Martin Place. He shows the children around the customer service area, instructing them on how to deposit and withdraw. He takes them down to the basement level vault, where the children see money being counted and stored in huge safes. Mr Phillips explains the banking system to the children. The five return to school, the children with a newly acquired understanding of the money in their school savings accounts.
Curator's notes
Prior to the Second World War, Commonwealth Bank Liaison Officers made regular visits to schools participating in the School Banking program. The visits were both to support teachers with administration of the program and to address children on financial prudence and the habit of saving. The bank was forced to abandon these visits due to the labour shortage caused by the war. The School Bank, commissioned by the bank in 1951 and contracted to the recently established Australian National Film Board, was clearly produced as a proxy for the Liaison Officer visits. The visits resumed in September 1955.
School banking has a long history. By the late 1800s, individual teachers in several states had established Penny Banks for local school children. In 1887 the New South Wales Department of Public Instruction (later the Department of Education) introduced the Public School Savings Bank. The scheme and the students' accounts were managed by the schools, with bulk funds deposited in the Government Savings Bank of New South Wales. In 1925 the bank took over administration, issuing each student with a passbook, but schools still accepted students' deposits.
Between 1907 and 1928 school banking of one form or other was introduced in every state, in conjunction with either the respective state bank or the Commonwealth Bank. The Great Depression and the Second World War saw amalgamations between the Commonwealth Bank and two of the state banks, as well as a general overhaul of government-run bank functions. By 1955 the Commonwealth Bank's School Banking program was operating in 4,231 schools in the ACT, New South Wales, Queensland, Western Australia, Northern Territory, Papua New Guinea and the Solomon Islands Protectorate. The Bank also provided similar facilities for non-departmental schools in Victoria, South Australia and Tasmania.