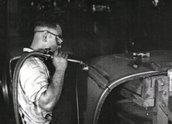 Building a Motor Body (c.1925)
Synopsis
This film shows the building of a car motor body at the Holden Motor Body Builders at Woodville, near Adelaide, in South Australia. Scenes depict the pressing of steel panels to form the car bodies and the assembly of the car shell. Intertitles contextualise the importance this plant plays in providing employment and wages for thousands of Australian workers.
Curator's notes
Building a Motor Body was one of a series of short promotional films commissioned by the South Australian Government, most likely to attract workers. At the time this documentary was made, the Woodville plant was the second largest in the British Empire with an annual output of 35,000 car bodies. Three-quarters of the materials used to manufacture the bodies were Australian. The plant employed around 4,300 people in peak periods and was a major source of jobs for the surrounding Adelaide area.
Taken as a whole, the film is a persuasive recruitment tool. The intertitles used throughout mention good wages, the plant's employment capacity and the quality of the product, indicating that recruitment was probably one of its purposes.
At this time, Australians were building motor bodies but were not producing an all-Australian manufactured vehicle. By the mid 1940s, plans for such a car were in full swing. By 1948, the first model Holden – 'Australia's own car' – rolled off the assembly line at Fisherman's Bend. See Birth of a Car (1948) for the story of the development of this Australian icon.
The prints of this documentary were deposited with the National Film and Sound Archive by an Adelaide-based film director and 'picture show man'. Much historical footage of this nature has survived through the care shown by film lovers and collectors. In this case, the director was particularly interested in scenes of life in the Adelaide area, which prompted him to collect a range of material shot in South Australia.