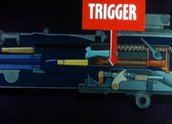 Browning Machine Gun (c.1940)
Synopsis
An animated training film made by the Owen Brothers and commissioned by the Australian Commonwealth Military Forces illustrating the operation of the Browning machine gun.
Curator's notes
Browning Machine Gun uses cross-sections, repetition and slow motion, as well as accompanying text boxes highlighting components of the gun, to effectively illustrate the mechanics of the weapon's operation. The animation is detailed, yet simple enough to be understood by even those unfamiliar with weaponry and munitions. The film's opening title states that it is a 'United States Army Training Film'. It is not known whether the film ever screened in the US; it was more likely shown to American troops in Australia during the Second World War.
Will and Harrie Owen were professional graphic artists and animators as well as amateur filmmakers. They began making films for private viewing in the early 1930s when Will was a projectionist and manager of their local theatre in Belgrave, Victoria. They formed their own company, Owen Brothers Animated Films, and made a living animating segments of sponsored films for private companies and government departments.
During the Second World War the Owen brothers worked for the Department of Information and made a series of animated propaganda advertisements including Road to Tokyo (c1941), First Victory Home Loan: Squander Bug (c1945) and Australians Keep the Wheels of Industry Turning (c1943). Browning Machine Gun was their first assignment for the Commonwealth and they had experimented with their animation technique in short test films on the Bren and Lewis machine guns.
The brothers had experimented with animation prior to the outbreak of war and produced two short films – The Old Tree (c1938) and The Court of Old King Cole (c1939) – both a far cry from the subject matter tackled in this film and their other DOI films which were to follow. They also made live-action documentaries about public transport (see Fez Please, c1935, and Choo Choo, c1940).