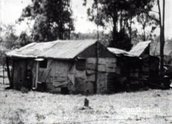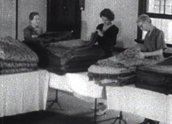 A Brief Survey of the Activities of the Brisbane City Mission (c.1939)
Synopsis
This promotional documentary made by the Brisbane City Mission surveys the Mission's activities and services during the late 1930s and the relief they provide for thousands of the city's urban poor. It details the distribution of meals, clothing and blankets to the needy, and the preparation of Christmas parcels for families with young children.
Curator's notes
This is a vivid and moving portrait of the charity work that the Brisbane City Mission (now part of Mission Australia) was doing for the poor and needy in Brisbane at a time when many people were struggling financially because of the Depression. By 1939 when this documentary was made, the Brisbane City Mission had been operating for eighty years and had provided over three million free meals and over one million parcels of clothing to the needy and homeless. These astounding statistics are introduced through intertitles at the beginning of the film, indicating its use as a promotional tool to raise awareness and increase its support base so as to continue and expand its services.
The film includes numerous shots that create empathy with the viewer – focusing on the faces of men, women and children in need. Many scenes also show people dressed their 'best' clothes when they attend the Mission to receive their parcels or blankets. The final scenes at a Christmas party held by the Mission (not shown here) contain powerful images of children opening the simple presents they are given by Mission volunteers – the only gifts they will receive.
The use of an emotive voice-over throughout the documentary reinforces the images and combines to build a strong case for the Mission's work to continue. The work of charities like Mission Australia in delivering community services often relies on the kindness of strangers. This awareness-raising documentary shows that the Brisbane City Mission recognised how the moving image medium could reach audiences and pull on the heartstrings (and purse-strings) of those who could afford to give. The film was probably screened in local halls and similar venues to people in the surrounding community and may well have been part of a special Christmas appeal.
The print of A Brief Survey of the Activities of the Brisbane City Mission runs for over twenty minutes, but is incomplete and cuts out abruptly at the end. It is some of the earliest surviving footage of poverty and poor living conditions in Queensland at the time.
In 2000, various city missions across the country came together to form a single organisation, Mission Australia.