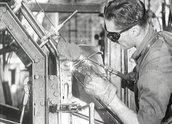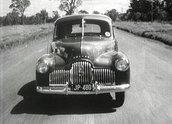 Birth of a Car (c.1948)
Synopsis
In 1948, the year that the first Holden was released, Roland Litchfield produced Made to Order for General Motors Holden. This documentary on the first model Holden was shortened later that year and released as Birth of a Car. Birth of a Car proudly details the planning, testing and production of the first locally manufactured Holden model sedan developed to suit Australian conditions.
Curator's notes
We all know how the jingle goes – football, meat pies, kangaroos and Holden cars. The Holden car has become enshrined in Australian culture, and holds the sentimental tag as the first all-Australian car. But while many Australians still feel a great affection for the Holden car, it is probably difficult to imagine the anticipation and pride associated with the manufacture and release of the first model of Holden sedan (the 48-215 or 'FX') in 1948. This promotional documentary provides an insight into some of this significance.
Birth of a Car begins and ends on Australia's roads. The Holden was positioned by its maker as a car that uniquely met the conditions and needs of Australian drivers. It was manufactured locally on the production lines at Fisherman's Bend in Victoria and Woodville, South Australia. The emphasis on local production and consumption is mentioned in the opening seconds of the documentary and continues as a strong theme throughout.
The scenes inside the manufacturing plants highlight both the craftsmanship and technical precision needed to produce the car, as well as the 9,000 jobs which the car's production supports. The car itself is promoted for its speed, comfort, high mileage, reliability and Australian design.