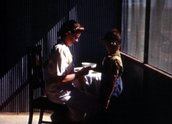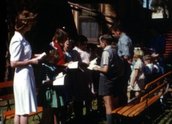 Beyond the Furthest Fences (1947)
Synopsis
A silent documentary that shows scenes from a journey made by Australian Inland Mission patrolling minister, the Reverend KF 'Skipper' Partridge, through central Australia in 1947. He travels from Broken Hill to Alice Springs via Tibooburra, Eromanga, Birdsville, Leigh Creek, Coober Pedy and Oodnadatta.
Curator's notes
In 1947, the Australian Inland Mission approached filmmaker John Kingsford Smith to make a film which followed Reverend 'Skipper' Partridge's patrol mission through central Australia. The result was the feature-length documentary The Inlanders, released two years later and screened to audiences in Australia and Britain. Beyond the Furthest Fences was compiled prior to the release of The Inlanders and, at 26 minutes, is an abridged version of Partridge's trip containing some of the scenes from the later film. Aside from its shorter length, Beyond the Furthest Fences is silent and in colour. When compared with The Inlanders, this earlier version is a simple compilation of actuality footage or rushes rather than a silent documentary with an edited structure.
The Australian Inland Mission was founded in 1912 by Reverend John Flynn, the Presbyterian Minister who also founded what became the Royal Flying Doctor Service. The mission of AIM was to provide a 'mantle of safety' to remote Australian communities and establish nursing hostels that provided medical facilities to its people. AIM minister patrols have been conducted since Flynn's first ventures into the outback in the 1910s, and the AIM have recorded a number of subsequent missions on film including An AIM Patrol (1927) and the successor to this film, The Inlanders (1949).