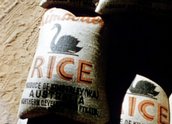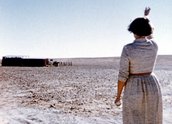 Australia's Land of Tomorrow (1962)
Synopsis
Australian Inland Mission (AIM) superintendent Reverend Fred McKay conducts his patrol through the north of Australia. Along the way he witnesses a prospering region where industry and agriculture have grown and the population has greatly increased since the first AIM visits to these parts.
The film includes scenes of uranium and bauxite mining, cotton growing and rice production (clip two), an Aboriginal settlement at Warrabri, the Gordon Downs cattle station, the AIM hostel at Halls Creek, the Royal Flying Doctor Service and the School of the Air (clip one).
Curator's notes
Written and directed by, and starring, the Reverend Fred McKay, Australia's Land of Tomorrow presents a continuum of expansion, progress and development in the northern parts of Australia that began with AIM founder John Flynn when he first ventured into remote Australia in 1913. Flynn's vision was to secure a 'mantle of safety' for communities in Australia's isolated areas through the provision of health services, communication technologies and pastoral care. During the closing moments of the film, narrator David Low links the legacy of Flynn's work with the region's growing prosperity. He says that Flynn and his followers opened up the land in 'every effort of nation building and security'.
When the Reverend John Flynn died in 1951, he was succeeded in his role as AIM superintendent by Reverend McKay, who continued Flynn's work until 1971. The Australian Inland Mission (now part of Frontier Services) recognised the power of film to document and promote its work as early as 1927, when it made An AIM Patrol. In 1947, the AIM began a collaboration with John Kingsford Smith and his production company Kingcroft Australia. Kingsford Smith produced seven films for the AIM including The Inlanders (1949), a partially dramatised documentary that follows patrolling minister Reverend KF 'Skipper' Partridge on a 8,690 kilometre journey to central Australia. Fred McKay was involved in a number of film productions for the Australian Inland Mission in the 1960s and 1970s including the television series An Inland Affair, which showed the work and history of the organisation.