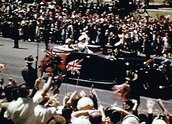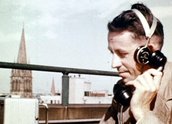 Australia Post – Royal Tour (1954)
Synopsis
This program was produced by the Public Relations Division of the Postmaster-General's Department (PMG) to celebrate its role in the newly crowned Queen Elizabeth II's visit to Australia. It follows the Queen as she tours New South Wales, Victoria and Tasmania, highlighting the operations of the PMG along the way.
Curator's notes
In February and March 1954, less than a year after her coronation, Queen Elizabeth II, accompanied by her husband the Duke of Edinburgh, visited Australia as part of a wider tour of Commonwealth nations. When she stepped ashore from the royal barge at Farm Cove in Sydney on 3 February, she was the first reigning monarch ever to set foot on Australian soil. She departed the country from Fremantle on 1 April, and in her two-month stay she visited an astonishing number of locations in every state, and the ACT. For the nation it was a huge event. Not just an opportunity to see the young, 27-year-old Queen in person, it was also a chance, half a century after Federation, to show off the country to the monarch. As this program amply illustrates, an excited Australian public turned out in droves to see the Queen. It's claimed that almost three-quarters of the country's population saw her in person at least once during the two months.
For the PMG, the Queen's visit represented a coming of age. Postal and telecommunications operations, linking the country internally as well as to the outside world, had been tried and tested through two world wars. But new 1950s communication technologies had given rise to a growing media market, and print and broadcast organisations now demanded instantaneous access to information. This, combined with the security obligations prerequisite to the visit of a monarch, meant that significant challenges were placed on PMG systems. While television was not introduced in Australia until 1956, it was very much in the pipeline at this point. The PMG's handling of broadcasting requirements throughout the Queen's visit was something of a primer for the Melbourne Olympic Games that would take place two years later.