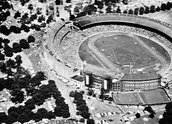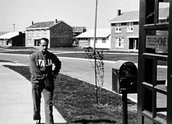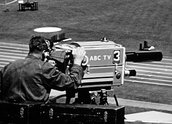 Australia Post – Olympic Post Script (1956)
Synopsis
This black-and-white film was produced to celebrate the communications achievements of the PMG (Postmaster-General's Department) during the summer Olympic Games, held in Melbourne from 22 November to 8 December 1956.
Curator's notes
The 1956 Melbourne Olympic Games were a proud moment for Australia's postal and telecommunications services. The Games themselves lay claim to a number of 'firsts': the first time Australia hosted the Olympics; the first Games held in the southern hemisphere (the first, in fact, outside Europe or the United States); and the first Games to be televised live to the rest of the world. The Melbourne Games were a great success, and the PMG's contribution constituted a large part of that success. The film deals with the PMG's involvement, from the time the venues were being built, to the final days of events. Increased demand on internal postal and telecommunications services was managed effectively, while the requirements of the international media were equally proficiently met. The Australian Broadcasting Commission hosted some 120 commentators representing 44 overseas broadcasting organisations.
The film moves through the various PMG operations and services set up especially for the Melbourne Games, and explains how the PMG worked in conjunction with other personnel and organisations to achieve their desired ends. While it's an important record in terms of the history of communications, it's also an interesting document for its sports content. There's footage shot in and around the venues (including those for the less popular sports), footage shot in the athletes' village, and footage of all sorts of heats and events. This type of material is unlikely to have been kept or survived in any other archival form, and so represents a welcome additional record of Australia's first Olympic Games.