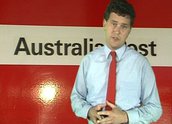 Australia Post – Meeting the Challenge (1988)
Synopsis
This in-house program was produced for Australia Post management and employees to inform them of what the Australian Postal Corporation Act (the APC Act) will mean for the organisation.
Curator's notes
This program was made on the eve of the passing of the APC Act, which went through in 1989, making Australia Post a Government Business Enterprise. Presented by Michael Talbot, the (then acting) deputy state manager of New South Wales, it was a short training video designed to give Australia Post personnel a précis of what stage things were at with the corporate restructure.
Even though the APC Act had not yet been passed, the organisation was in the thick of the process of reconfiguring its functions, implementing performance improvement programs and developing a corporate identity. It was resolutely shifting its public image from a government department to a commercial service provider. Post offices were being given a new retail look, and where previously only stamps were sold, a range of retail post items was being introduced.
It was a time of tremendous upheaval for all employees of Australia Post, and programs such as this aimed to maintain the focus and commitment of management and staff, necessary to the restructure's success.