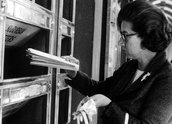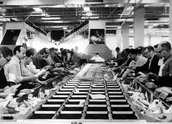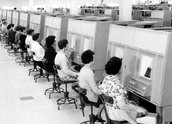 Australia Post – This is the Mail (1966)
Synopsis
This is a black-and-white film, showcasing what was then the newly opened Redfern Mail Exchange. It looks at Redfern's centralised system of mail collection and distribution. While detailing the range of mechanised mail-sorting equipment employed, it's careful to accentuate the staff amenities installed at the new exchange.
Curator's notes
When the $6 million Redfern Mail Exchange in Sydney was opened in 1965, it was hailed as the largest mechanised mail centre in the Southern Hemisphere. The exchange, designed to automate and centralise the mail sorting facilities for New South Wales, earned the then named Australian Post Office a reputation as a world leader in postal service mechanisation. The Australian Post Office's longer term plan was to roll out automated centralised sorting in each of the other states, beginning with Victoria. However things didn't go as planned. The method of implementation of the new systems at Redfern led to chronic staff dissatisfaction, and a series of major industrial relations disputes arose. By 1972 Redfern had experienced a 10 percent fall in productivity while productivity at the non-mechanised Melbourne exchange had increased by 13 percent.
While the mechanisation roll out was put on hold elsewhere, the PMG (Postmaster-General's Department) was reluctant to abandon the investment at Redfern. Consequently workplace unrest continued well into the 1980s. Finally, after a two week strike in September – October 1985, the APTU (Australian Postal and Telecommunications Union) agreed to the PMG's decision to divert Redfern's mail sorting temporarily to the Sydney GPO and to the major regional post offices. The effect of the agreement was that the Redfern centre was decommissioned, a network of suburban and regional mail exchanges opened and the mail sorting system once again decentralised. The Redfern site was redeveloped as the Australian Post Office's NSW headquarters.
Memories of the Redfern experience remain bitter for many people, but events there were part of a much bigger picture. In the 1960s the PMG, responsible for both postal and telecommunications services, oversaw a series of radical and significant technological developments, resulting in an expansion in the size and nature of its services. The department itself underwent regroupings of functions and divisions, and restructurings of management. The large PMG workforce was well organised and highly unionised, and in 1969 a temporary (eventually made permanent) Industrial Relations Division was created within the PMG, to control and coordinate its increasing arbitration and industrial activities. By the late 1970s industrial relations instability – in both the Australia Post and Telecom Australia divisions of the recently split PMG – became the proving ground for a government resolutely pursuing a policy of contraction of the public sector. As Tony Staley (the then Minister for Communications in the Fraser government) stated in his interview for the ABC Radio National Hindsight series. An Attitude of Mind and Faith, 'there were a number of almighty stoushes'.