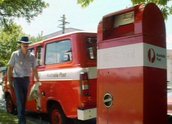 Australia Post – Australia Post Inc (1990)
Synopsis
This in-house program, directed at controlling postal managers (CPMs) and postal managers (PMs), discussed what the Australian Postal Corporation Act (the APC Act) meant for individual post offices.
Curator's notes
In 1989 the APC Act made Australia Post a Government Business Enterprise. It became a corporation with a board of directors, no government funding and a directive to meet all its own costs and show a profit. The organisation was rich in capital assets in the form of post office buildings in prime real estate positions throughout the country, but without established revenue structures necessary for generating a profit.
It responded by selling some buildings and increasing the yield on others. It separated its delivery functions from its sales and retail functions, and focused its efforts on increasing revenue. It rationalised its existing mail handling operations and spent money on the development of a corporate image. Whether a post office remained in place or was relocated to more cost effective premises, it became the face of the new image. Once an administrative centre primarily focused on mail delivery, the post office became a sales oriented shopfront.