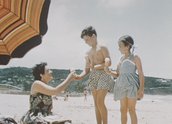 A Day at the Beach (1956)
Synopsis
This is an education film for children aged six to eight years, in which a young Australian family, the Mitchells, head to the beach on a Saturday for a day of fun in the sun. The children, Bruce and Anne, build sandcastles until a wave washes away their handiwork. Their father goes fishing while mother watches the children. After a swim and a picnic lunch, the children bury their sleeping father in sand. They watch a surfboat crew row out between the breakers, as a young surfer rides a longboard to shore. After an exhausting but enjoyable day, the family heads for home.
Curator's notes
A Day at the Beach was made in 1956, the year that television hit Australia. The model for this kind of educational film is originally from the United Kingdom, before the Second World War. The use of the terms 'mummy' and 'daddy' suggest that influence, as those terms were less common amongst Australian children, even in the 1950s. The director Malcolm Otton was English born, and made several films for children over a long career in Australia. Otton was educated at King's College, Cambridge, in the 1930s, where he studied agriculture.
The film is charming, but its purposes are opaque. It is hard to discern any obvious messages for the children who were its audience, presumably in screenings at schools across New South Wales. There is an understated theme of safety first: Bruce and Anne, the children, have their sandcastles destroyed by an incoming wave. Don't turn your back on the surf, in other words.
On the other hand, the film is fascinating for what it doesn't say. There is no warning about the sun: Bruce and Anne do not wear hats, nor sun cream, nor shoes on the rocks, when they join their father to go fishing. Daddy, by contrast, wears heavy boots, a protective hat and a shirt when he goes fishing. He also smokes a pipe, as fathers often did in the 1950s. It is impossible to imagine anyone with a tobacco product in a children's film in the modern era.
The film does project some more subtle messages. There is a suggestion of healthy diet in the lunch, with 'lots and lots of fruit' and healthy milk; there is the suggestion of the benefits of sport and swimming, both in the family surfing with a rubber mat known as a surfoplane (invented in Australia in 1932) and the sequence with the surfboat. Young Bruce could grow up to become big and strong, like the men in the surfboat, if he plays vigorous sport, learns to swim, and eats proper food. There is also perhaps the subtle hope that Bruce might be encouraged to join the Surf Lifesaving movement when he's a little older, rather than the growing surfboard riding craze.
In his book, Surfmovies: The History of the Surf Film in Australia (2000, Shore Thing Publishing, ISBN 0 9587420 3 0) Albie Thoms describes A Day at the Beach as 'a miniature masterpiece in the outmoded instructional style'. The film was shot at Newport in Sydney, although the surfboat is from nearby Collaroy. 'With the narration adopting the patronising tone then employed by schoolteachers, the film encapsulated attitudes to the beach prevalent at the time, when beach bathing was considered essential to national wellbeing.'