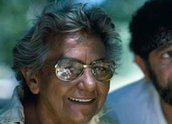 We Are Going (1986)
Synopsis
This is a rare recording of Oodgeroo Noonuccal (formerly known as Kath Walker) reading her poem 'We Are Going' at the Harold Park Hotel in Sydney 1986, recorded by the ABC.
Curator's notes
In 1964, at the height of her political involvement in fighting for Aboriginal rights, Oodgeroo Noonuccal's poem 'We Are Going' was published in her first book, also entitled We Are Going. While the poem reads like a lament, its intent is to inspire Aboriginal and Torres Strait Islanders into action, to stand up and fight against injustice and not fade away.
Over 20 years after publication she read 'We Are Going' at the Harold Park Hotel, where it sounded as fresh and powerful as when it was written, and typical of her poems with its strong messages about Indigenous culture and Australia's black history.
This poem marks the beginning of Aboriginal writing that served to raise the political consciousness of Aboriginal and non-Aboriginal Australians alike. It has been criticised for putting politics over poetry, yet praised for its fluidity and lyricism, its directness and poignancy.
Born Kathleen Jean Mary Ruska on 3 Novemeber 1920 at Minjerribah (North Stradbroke Island, Moreton Bay, Queensland), she changed her name to Oodgeroo Noonuccal to rid herself of a name that had been passed on to her by white invaders. Oodgeroo means 'paperbark' in her traditional language Noonuccal, a fitting name for an Aboriginal writer.
Another Indigenous Australian writer, Colin Johnson, was inspired by Kath and changed his name to Mudrooroo Narogin, which also means 'paperbark' in his people's dialect. Oodgeroo is also known for her long friendship and professional association with Australian poet, Judith Wright (see Poetry In Australia – Judith Wright, 1963), and she inspired other contemporary emerging Aboriginal writers such as Kevin Gilbert and Jack Davis.
Oodgerroo is a much loved and celebrated Australian writer whose large contribution to Aboriginal affairs will not be forgotten. Her contribution is illustrated here by this poignant and haunting poem read beautifully by the author.