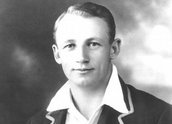 The 1930 Australian XI: Winners of the Ashes (1930)
The young woman in this audio recording was my great aunt, Catherine [Kit] Fenton.

Kit was a foreign correspondent based in London during the war. She used to read the news for the BBC on the radio and her relations in Australia used to listen to her broadcast on short wave radio. After the war she write a book entitled "Women in the War" which was published in London.

Kit gave me a copy of the original recording on tape which I deposited with the ABC archive. They gave me a copy, also on tape, that has now sadly deteriorated. Apparently the NFSA now has a copy as well. Possibly the ABC archive passed the recording onto the NFSA. Delighted to hear it's been preserved.

#1 from rsterry – 4 years ago.
To comment on this title, you need to be
logged in
.

RSS – Subscribe to an RSS feed of comments on this title. (learn about RSS)