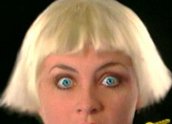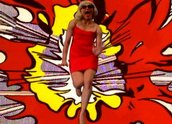 Zipper (1998)
Synopsis
The invention of the zipper in the 1920s is revealed as contemporaneous with that of the automobile, jazz and modern art. Images of changing representations of women in art and fashion are used to show women's changes in sexual demeanour.
Curator's notes
Zipper is Antoinette Starkiewicz's first digital film – a combination of live action and animation. Her early works, including Pussy Pumps Up (1979) and Pianoforte (1984), were traditional 2D cel animations. Starkiewicz originally trained as a painter before gaining a Diploma of Animation in London and a Master of Arts in Digital Media at AFTRS in 1997. She is also a portrait painter, designer and fashion illustrator.
Female sensuality, often playfully portrayed, is a recurring theme in Starkiewicz's work. Zipper, unlike her earlier films, uses a live model and voice-over narration by actor Arthur Dignam. Focusing on 20th century images of women in art and fashion, the film's intent is serious although its tone is ironic. Beginning in the 1920s with the advent of the automobile, Zipper traces the changes in women's fashion and the corresponding changes in society.
In a tongue-in-cheek manner, the film suggests that women's increasing sexual freedom is a consequence of the zipper's invention. Starkiewicz's representation of women here, as in her earlier Pussy Pumps Up (1979), reveals the play between the masculine and the feminine; the strong and the passive; the observer and the observed. The film reveals that women can also view men as sexual objects.
Zipper screened in competition at the Cannes Film Festival in 1999 and was also shown at international festivals in Annecy, Siena and Berlin. Starkiewicz's most recent work is the digital animation-live action pilot Pussy Through History (2006).