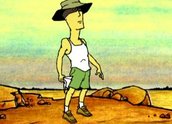 Winging It (1998)
Synopsis
A young man (voiced by David Brown) leaves his home and family for a far-off land, where a dangerous encounter inspires him to recall his father's (voiced by Max Bannah) and grandfather's advice on marksmanship.
Curator's notes
What makes this film appealing are the various connections made: with countries and cultures, such as Australia and the Middle East; with fond childhood memories and present danger; and, not least, with son, father and grandfather. Strong family ties across three generations are made all the more poignant by the fact that Winging It was inspired by real events experienced by Joe Bannah, the filmmaker's son.
With almost 40 years' animation experience, in both auteur and commercial domains, Max Bannah is an advocate for independent Queensland animators and lectures at the Queensland University of Technology. A gifted storyteller, he deals with universal themes, in this case identity and connection, with sardonic yet gentle humour. With a measured, unhurried pace he unravels a complex idea into one which is entertaining and easily understood. He belongs to the league of notable animator writer-directors who make this process appear effortless, such as Dennis Tupicoff and Bruce Petty.
Winging It screened at the Melbourne International Film Festival in 1999 and the Annecy International Animated Film Festival. It was selected for competition at the Cinanima '99 festival in Portugal.