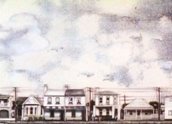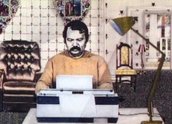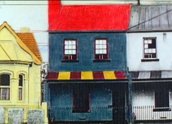 Union Street (1990)
Synopsis
The multicultural residents of an inner-city street redecorate their houses in competition with a yuppie couple who are intent on financial gain. Consequently, the street attracts media publicity and becomes a tourist destination. Meanwhile, an application by a group of squatters to convert their building into a community arts centre helps to overcome residents' differences. Voice-over narration is by Andrew Denton.
Curator's notes
In this light-hearted depiction of urban neighbourhood relationships and the transformation of a working-class suburb, community union is shown to be achievable, albeit limited. The residents' cultural, sexual and socio-economic differences are conveyed by a combination of the ironic voice-over narration by Andrew Denton and the animator's detailed renderings of house facades and interiors.
Made prior to the advent of computer animation, Union Street utilises an unconventional 2D technique which Chandler describes as 'photocopy montage'. Using minimal drawing, this method largely comprises photographic images of real people which have been photocopied, coloured and then combined with a background collage. The film's strong graphic quality and detailed textuality, together with its minimal movement of images, is markedly different to the smooth, polished aesthetic and fast-paced action characteristic of the 3D CGI of Disney's Pixar films.
Union Street helped establish Chandler as an animator by winning the 1991 AFI Award for Best Short Animation and the Yoram Gross Animation Award at the Sydney Film Festival. Trained as a live-action filmmaker due to the dearth of animation courses at the time, Chandler is largely self-taught. Her later films, including Vengeance (1998) and The Summer of 77 (2001), all utilise the computer and tend to combine live action and animation techniques. At the time of writing, her latest project is Heirlooms (2009), a series of 13 short animations for SBS.