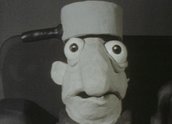 Synopsis
The narrator (voiced by William McInnes) goes to live with his Uncle (John Flaus), who retires from working at the hardware shop after selling a million nails. As Uncle and Aunt are childless, the nephew becomes their surrogate child and part of the life of this gently eccentric couple until Aunt drinks ant poison and dies. Uncle is not lonely because he has Reg, his pet chihuahua. Uncle urinates on his lemon tree to make it grow, then decorates it with fairy lights. His dog Reg is then run over – a bitter blow. Uncle is taken to the Ashburn Gentlemen's Hostel, where he remains true to his eccentric self, till the end.
Curator's notes
Uncle is brought to life in claymation and is Adam Elliot's debut at what has become his signature technique. It is part one of a trilogy of claymation portraits, followed by Cousin (1998) and Brother (1999). The animator-director drew on the lives of his family for inspiration and the portrayals of these characters are endearing in their eccentricities, flawed and very human. On one occasion Uncle is found crying because 'life can only be understood backwards, but we have to live it forwards', he says, adding that 'the most important things in life are simple pleasures, like … growing a tree and a friendly dog.'
A student film, Uncle boasts no great production values – its animation is minimal, the camera is still throughout. Yet the film contains the seeds which will flower into Elliot's every film: detailed observation of human foibles and eccentricities, compassion and great comic timing.
Uncle won the 1997 AFI Award for Best Animation and the Dendy Award For Best Australian Animated Film at the Sydney Film Festival. It also won prizes from the St Kilda Film Festival, International Shortfest in Aspen and an Honourable Mention at the Palm Springs International Film Festival. It screened on SBS Television.