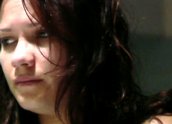 Bit of Black Business – Too Late (2007)
Synopsis
Ben (Aaron Pedersen) returns home and instantly realises he is in some kind of trouble. His girlfriend Gemma (Ngaire Pigram) is giving him the cold shoulder and not speaking to him. His son, BJ (Jake Phillips), asks Ben, 'I thought you weren't coming back?' Why is Gemma so angry at Ben? Surely she can't ignore him forever?
Curator's notes
The whole scenario is too puzzling for Ben and he wants forgiveness. He points out that he is not out with the boys, he is at home with his family. Writer-director Michael Longbottom describes his second short film as 'a fictional story but a chilling reminder of the impact of peer pressure and the importance of family commitments for young men'.
The message of Too Late is delivered with strength through the talent of the actors, particularly seasoned professional Aaron Pedersen, and complemented by David Page's sound composition.
Too Late was produced by Kath Shelper as part of the Bit of Black Business initiative by the Indigenous unit of the AFC, and premiered at the 2007 Message Stick Indigenous Film Festival in Sydney.