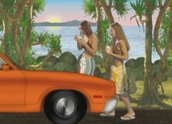 The Summer of 77 (2001)
Synopsis
The Summer of 77 utilises a combination of live action and animated effects. It begins in the present when 36-year-old Cathy (Mary-Ann Henshaw) reluctantly goes to a party following a failed relationship. There she meets a man (Nicholas Hope) whom she recognises as the surfer boy (Tristan Roache-Turner) that her teenage self (Brooke Ryan) fell in love with whilst on holiday in Noosa with her parents (Judi McCrossin and Warren Coleman) and her best friend Anna (Kassandra Lee) in 1977. Through Cathy's narration, the film recreates this formative period of her life and ends with a return to the present and Cathy's re-evaluation of her emotional state.
Curator's notes
A partly autobiographical film, The Summer of 77 relates a universal tale of the awkwardness and pain associated with both teenage and adult sexual relationships from a female perspective. However, the context is distinctly Australian and the tone often humorous with an undertone of sexual innuendo.
Chandler portrays what it's like to be a teenage girl 'Living in the 70's' (the name of the iconic Skyhooks track which features in the film) and spending school holidays at the beach. Fending off approaches by young male surfers in customised panel vans (complete with mattresses) during the day, at night the girls go to the drive-in with Cathy's parents or lie in bed listening to music by their favourite Australian band Sherbet, dreaming of romance.
Unlike her first film Union Street (1990), Wendy Chandler's later films utilise the computer and tend to combine live action and animation techniques. Chandler went on to produce and co-direct Heirlooms (2009), a series of 13 short animations for SBS. Her film One of the Lucky Ones (2007) is also partly autobiographical, telling of her rape and its aftermath.
In 2001, The Summer of 77 won the Grand Prize for Best Digital Film at the Siena International Short Film Festival, Best Achievement in Special Effects at the St Kilda Film Festival and Best Short Film at the Canberra International Film Festival. The Summer of 77 screened as part of Home Movies on SBS in early 2002.