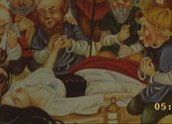 The Picture Woman (1997)
Synopsis
An elderly woman (voiced by Arianthe Galani) recalls a lifelong ritual of taking a picture of herself every other day, always in the same position. Her father started the ritual when she was a baby and she has continued it through her life. The images, when put together, will form an animated film, an evolving lifelong self-portrait.
Curator's notes
As an unseen woman describes her lifelong ritual of photographing herself every second day, we see a series of images. Rather than the self-portraits she describes, they are a diverse mixture of classic paintings, fashion photos and movie stills, alongside photographs staged with a cast of actors. The relationship between voice and image is tangential and indirect – for instance, pop cultural images of fashion and pin-up celebrities punctuate the woman's descriptions of adolescence; and her talk of solitary old age is accompanied by a view of an elderly pair of hands and a teacup.
The result is an interesting exploration of visual association, imagination and the multiple meanings that image and narrative can evoke simultaneously. The Picture Woman is a work of fiction, so the woman and her self-portraits do not actually exist. Nonetheless, the film builds up tension over these images – a desire to see what would, if it existed, be an extraordinary animated film of a woman's changing appearance from childhood through to old age. The images on screen stand in for this film, which we are left to imagine. At the same time, through connotation, they illustrate her life story.
In telling the story of her self-portraits, the woman describes her childhood, adulthood, old age and family relationships – in particular her relationship with her father. The self-portraits become the narrative vehicle for her autobiography and raise themes of family, personal rituals, personal history and the life cycle. The woman explains that if she lives until 80, her film will be around nine minutes and 45 seconds long. A counter on screen shows that The Picture Woman runs to exactly 9 minutes and 45 seconds. In this manner, the compression of time in a film becomes a poignant symbol for the passage of time in a life.
Filmmaker Peter Rasmussen had a diverse career. Among his credits were screenplays for the feature films In the Winter Dark (1998) and Mad Bomber in Love (1991), as well as Australia's first feature-length machinima film, Stolen Life (2007). Following his death in 2008, the Peter Rasmussen Innovation Award has been awarded annually at the Sydney International Film Festival to innovative Australian film, machinima or new media practitioners.
The Picture Woman won the 1999 Film Critics' Circle of Australia award for Best Short Film and was nominated for an AFI Award for its script. It screened at a range of international festivals including Palm Springs and the Montreal International Film Festival.