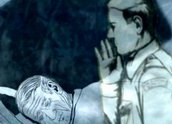 The Long Yard (2000)
Synopsis
An elderly man hits a bullock whilst driving at night on a country road in the Northern Territory. His four-wheel drive vehicle runs off the road and he is knocked unconscious. He crawls up the embankment and attempts to wave down a passing car but collapses from exhaustion and pain at the side of the road. As he remains semi-conscious in hospital, he recalls a motorcycle accident he had during his army service in Korea.
Curator's notes
In a series of skilfully juxtaposed flashback sequences which combine the present, the immediate past and the more distant past, Sharon Lee Parker's film The Long Yard draws a parallel between two traumatic events in a man's life: a car accident on a country road in Australia and a motorbike accident in Korea during the Korean War. The film is dedicated to Bob Parker, the animator's father, and is based on two traumatic events in his life.
The Long Yard takes its title from the film's soundtrack: the Keith Dixon-Slim Dusty composition, 'Leave Him in the Long Yard' (1980), sung by Slim Dusty. It relates to the placement of ageing cattle and serves as a metaphor for the central character who – as his granddaughter seems to suggest in the film – is too old to be driving at night.
The Long Yard featured in the SBS animated television series Swimming Outside the Flags (2000). It uses traditional 2D hand-drawn animation, although Parker has worked mainly in stop-motion puppet animation. She was a key animator for the ABC-BBC children's television series Plasmo (1997) and one of the thirteen SLAG (Southern Ladies Animation Group) animators who collaborated on the animated documentary It's Like That (2002).
Parker, who has run an animation studio in Parslow Street, Clifton Hill for the past decade, worked on the feature $9.99 (2008), directed by Tatia Rosenthal. She has also recently been animating for Julia Bourke on a stop-motion animation called Glossy (2011).