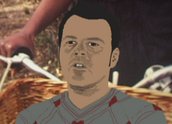 The First Thing I Remember (2005)
Synopsis
Animated documentary The First Thing I Remember recreates the fragmented and dreamlike first memories of 12 interviewees.
Curator's notes
Director Tamara Meem and producer Matt Carter made The First Thing I Remember while both were studying at AFTRS. As the 12 interviewees in the film describe their earliest memories, impressionistic Super 8 sequences recreate them for the audience. Meem's choices of a high-contrast image, saturated colour and Super 8 film, with its graininess and nostalgic qualities, play to the film's themes of perception and subjectivity.
Meem sometimes shows her interviewees speaking and has made an interesting choice in rotoscoping them; that is, tracing the frames of video to turn the subjects into more simplified animated characters. To a degree, this moves the focus away from the interviewees themselves and onto the film's qualities as a stylistic response to a theme.
The voice interview made visual is a burgeoning 'sub-genre' within short documentary and animation. Nick Park's Creature Comforts (1989) is a seminal example, recreating interviews with housing development and retirement home residents as interviews with zoo animals. Australian examples include Dave Jones's In My Day (2004), which combines elderly people's memories of growing up in Natimuk with images by the town's children, and Dennis Tupicoff's His Mother's Voice (1997), which visualises a woman's spoken account of her son's death in two different ways and employs rotoscoping. In style and theme, The First Thing I Remember also brings to mind Richard Linklater's rotoscoped feature about dreams, Waking Life (2001).
The First Thing I Remember was awarded Best Experimental Film at the 2005 Sydney Film Festival and screened at a range of other festivals including the Palm Springs and Brisbane International Film Festivals. It screened on SBS Television in March 2006.