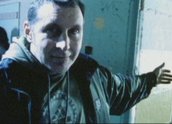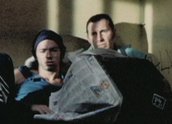 The Big House (2000)
Synopsis
When a young man, Sonny (Kick Gurry), enters prison for the first time, 'lifer' Williams (Tony Martin) takes him under his wing. Williams offers protection from predators like Jacko (Gary Sweet) but, as Sonny finds out, expects something in return.
Curator's notes
The Big House is about a relationship between two men in prison, introduced in early scenes as non-consensual sexual exploitation. It sounds like heavy stuff, but director Rachel Ward takes her subject matter into surprising territory. Rather than using straight drama to focus on Sonny's trauma, she branches out in another direction, showing a developing bond between the two men and melding drama with comedy.
In a 2009 ABC Talking Heads interview, Ward says she is interested in 'moral grey areas', exploring them again in her 2009 feature debut as director, Beautiful Kate, another film about forbidden love. The Big House avoids black-and-white definitions of characters or their actions and inhabits a similar grey area when it comes to genre and style. The opening scene's dark subject matter and visual style lead us to expect a gritty prison drama before Ward introduces a lighter tone. She even throws in a few gags and cheeky visual double entendres. At the same time, the dark notes play through to a disturbing conclusion.
The film toys with the audience's potential preconceptions around men in prison, predators and victims. Characters like Martin and Sweet's seasoned jailbirds and Gurry's wide-eyed innocent play on stereotypes but don't quite conform to expectations. Prison clichés are followed through with scenes that play against type. The relationship between the two men is elusive – is this a friendship of convenience, or have they made a real connection?
Ward has had a long involvement with charity work and The Big House is based on a story she came across while working at the Sydney City Mission, where she helped a group of young people put together a booklet of short stories. Ward's other film projects include the 50-minute feature Martha's New Coat (2003) and an episode of the TV series Two Twisted (2006).
The Big House received Best Australian Short Film prizes from the Australian Film Institute, Film Critics' Circle of Australia and Flickerfest. Rachel Ward won Best Director at the 2001 St Kilda Film Festival. The Big House screened internationally at festivals including Sundance, Clermont Ferrand and the Edinburgh Film Festival. It has screened on Channel 9 in Australia and Showtime USA.