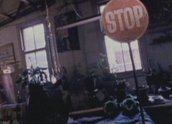 Swinger (1995)
Synopsis
A phone rings repeatedly in an apparently empty apartment. Unseen callers leave messages on an answering machine. These tell the story of the tenant's last few days and suggest you never know when your luck is going to change.
Curator's notes
Gregor Jordan's first film, Swinger, is a low-budget short that makes the most out of a limited set of elements. In part, the story is told by the set, as the camera moves around an apartment in a single shot. It is also told by answering machine messages left by characters we don't see. It is a clever, funny take on a popular short narrative structure based around a reveal.
Swinger shows a dark humour that Jordan also exhibits in later features like Two Hands (1999) and US production Buffalo Soldiers (2001). Jordan's other films include Ned Kelly (2003) and The Informers (2009).
Swinger won the Tropfest short film festival in 1995, the competition's third year, and then went on to win the Jury Prize for Best Short Film at the 1995 Cannes Film Festival. This was before Tropfest was the major event it has become; some credit Swinger with first drawing attention to the festival as a potential launching pad for aspiring filmmakers. The following year's Tropfest winner, Jonathan Ogilvie's This Film is a Dog (1996), also screened in competition at Cannes.