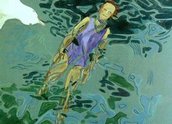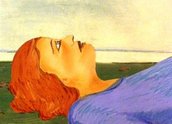 Small Treasures (1995)
Synopsis
Jane (voiced by Rachel Griffiths) is swimming in the sea she loves, full of joy in expectation of her first baby. Walking by the shore, she reaffirms her fulfilment and happiness. But at home she panics, imagining the worst domestic disasters befalling her unborn child. Just before delivery, to alleviate her fears, Jane summons up the sea in her imagination, but all she sees is danger and disaster.
Curator's notes
With characteristic directness, writer, director and animator Sarah Watt captures our attention from the first frames of sea and happiness to the last, heart-rending sequence of ultimate loss. Drawing on her own life, Watt shares her poignant story of birth, death and fear, both imagined and real.
The sea is what Jane, the protagonist, loves and turns to in all her many moods. It is the importance of the sea, as well as Jane's self-deprecating humour, which make Small Treasures a very Australian film. The themes of birth and death, joy and fear and the very humane touch at the finale, make this film universal.
Small Treasures won the Baby Lion for Best Short Film and the OCIC Award (given to outstanding films which promote human values) at the 1995 Venice Film Festival.